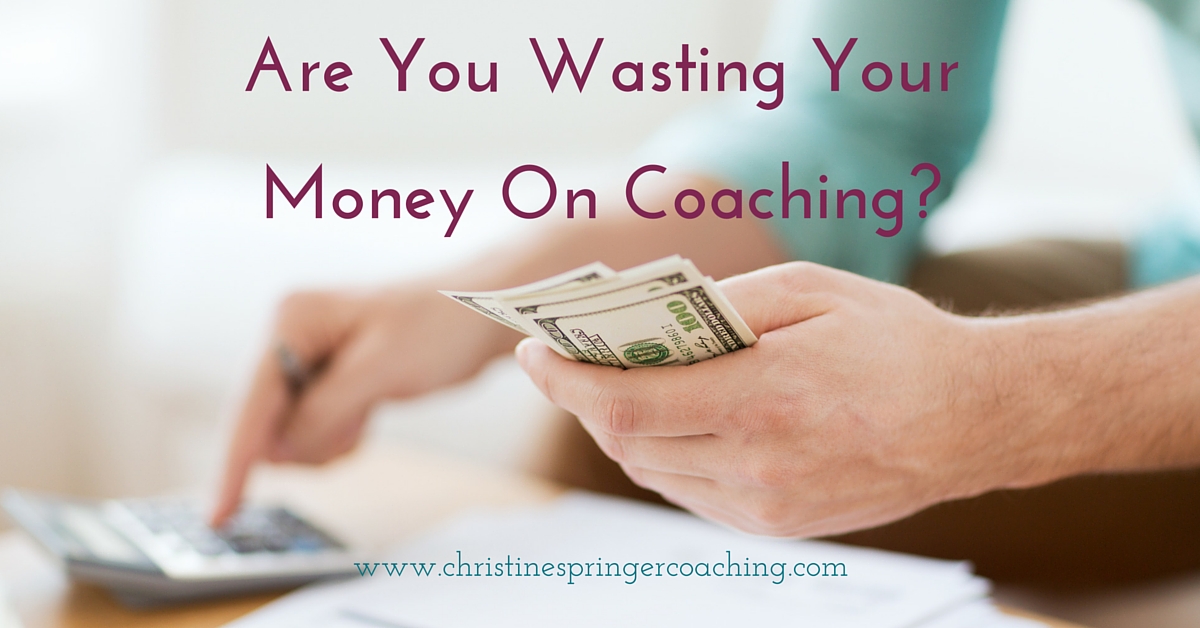 When Coaching Is A Waste Of Money
Public Service Announcement For Heart Centered Entrepreneurs: You are wasting your money on coaching.
This may seem like an odd (and self-sabotaging comment) from someone who makes a living as a coach, but hear me out.
My hunch is that if you are anything like the new clients I have signed on recently, you've likely spent $3-5,000 (or more!) on a combination of business strategy coaching programs that promise to help you develop a blueprint to launch your business, attract hundreds of potential new clients and build a list of raving fans using a combination of video, webinars and targeted social media strategies.
You bought these programs because they offered a logical, step-wise framework for how to build your business using proven strategies by experts who are now selling their strategies to you.
And while you were really fired up to start them initially, you've since struggled to find the time to implement all of these strategies, or you've tried a few of the strategies and found that the your results have fallen flat.
And perhaps now you are so overwhelmed that you are thinking you need a different program, one that has a different, more effective strategy for your business.
But the problem isn't with the programs, it's with you. (Sorry.)
Specifically, the problem is that you are looking at these programs and the strategies they offer to be THE THING that will be the vehicle to move your business forward.
But they aren't the vehicle….YOU are.
Any strategy you employ for your business is a map for HOW to move your business forward, NOT the actual vehicle that moves your business forward.
YOU are the one who has to do that.
And as the vehicle that moves your business forward, you need fuel.
Mindset Is Your Fuel
Mindset work is what fills your personal gas tank and gives you the confidence and perspective you need to hit the gas pedal to move your business forward.
The single biggest  mistake I see heart-centered entrepreneurs making is that they continue to invest in strategy programs and coaching to grow their business without realizing that they MUST change their own mindset in order to implement these strategies successfully.
Continuing to invest in different strategies to move your business forward without doing mindset work is like planning a road trip and continuing to buy maps without ever getting gas for your car.
You definitely need a well-designed strategy to create a successful business.
But you must "fuel yourself" by doing working on your mindset first so you feel energized and empowered to put those strategies into place.
The number one symptom of mindset problems in empathetic entrepreneurs is overwhelm.
Reducing overwhelm is the first mindset key to successfully implementing a strategy to grow your business.
I want to help you shift your mindset around overwhelm so you can rock your business.
I created a free e-book called The Productivity Prescription to help entrepreneurs like you to start their days with clarity and focus, rather than overwhelm.
It's a 15 minute daily routine that saves you 90 minutes (or more!) of time lost due to scattered focus and stress.
I know this routine works because I created this routine for myself initially to help manage my own overwhelm. And it worked so well that I started sharing it with my clients. (And they LOVED it!)
YOU are the most important part of your business success. Start shifting your mindset and fueling your success by downloading the Productivity Prescription today!